Oops! Somehow I haven't blogged for nearly a week! I'm sorry about that. I've been busy, and my hands have also been looking shocking - I've had very bad excema on the backs of my hands recently, and it looks horrid. Anyway, on the plus side, I had some really exciting nail mail this weekend! Some more exciting things to review from the Born Pretty Store! Today, it's the turn of the CandyColors Glow-in-the-Dark nail polish! This is shade #11.
This is a fabulous bright neon pink. I am always on the lookout for glow in the dark polish, but the only one I've found so far was a bit murky coloured in the daylight, and didn't glow in the same colour either. This one is a lovely colour in its own right, which was great. This is two coats, which is still fairly sheer, but you could layer it over a creme, or add another coat.
Formula was a little thick, but perfectly easy to use. This dries to a satiny finish with a slightly rough texture (which I quite like) but I added topcoat for these photos.
In the dark - well, wow! What can I say? Look at it!
This is with a fairly long exposure, but still! I love that this glows in the same colour. If you look at the item on the store (link above), they do loads of colours! I'm so tempted to buy several and have a glow in the dark skittle! They're so cheap too, that that's not a crazy idea!
Don't forget that if you do want to buy anything from the Born Pretty Store, you can still use my 10% discount code, and all shipping is free. I've bought from them several times before getting these review samples, and delivery has always been a lot faster than I expect (they say 3-5 weeks, but this arrived in 8 days!)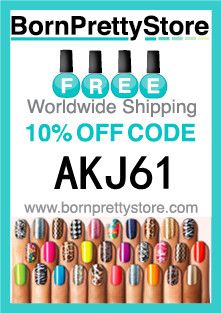 I received this product for review purposes, but words and opinions are entirely my own. I do not receive anything if you use my discount code, although when it's been used ten times, BPS will let me host a giveaway for my readers! See my Disclosure page for more details.