I'm sorry I haven't posted in ages! I have been out and about seeing the legend that is Bruce Springsteen again! I've had such a great time, but I'm absolutely exhausted now! Now it's all over and I can get back to my normal routine, and to doing my nails. Today I'm excited to be able to show you another Born Pretty Store first for me - embossed nail stickers!


The Born Pretty Store calls these "Embossed Texture Metal Style 3D Nail Art Sticker" and they're

item number 5659

which is on sale for $1.99 for this WHOLE sheet - look how many you get! There are 56 of the curly shapes (which is what I've used today) and 80 each of two different curved shapes for tips - a lacy one and a simple curved line, which could either be used together or separately. So you have dozens of separate manis in this set, for less than the price of a coffee!


These are straightforward stickers that you peel off the sheet and apply to the nail. They have sticky backs, so no need for nail glue or anything else. I did actually apply these to slightly tacky topcoat anyway, just to make sure they stayed down. By base colour is two coats of Barry M Racing Green.


I love how these look! Aren't they pretty? For me, I don't know how often I'll wear them at the moment as they look a bit wintery to me - all the colours that go with silver seem to be dark, wintery colours. I am sure I'll use these a lot in the run-up to Christmas! I think I'd have preferred these in gold, as that's a colour that goes better with my sorts of colours - the reds/pinks/oranges that I am loving at the moment. But that's a minor thing!


One or two of these stuck up slightly at the edges, but they were easily stuck down with a bit of topcoat. They lasted really well, and then just came off easily with nail varnish remover.


I love Racing Green, by the way! It's a gorgeous, dark metallic green, full of shimmer, that looks just like a classic MG car finish.

If you want to try these, or any other of the fantastic nail art stuff that BPS sells, you can use my discount code below to get 10% off all orders!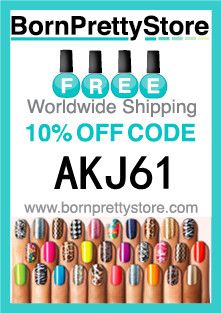 I received this product for review purposes, but words and opinions are entirely my own. I do not receive anything if you use my discount code, although when it's been used ten times, BPS will let me host a giveaway for my readers! See my Disclosure page for more details.