As you may know, I love a water decal, and I love gingham! Today I have some gingham water decals from the Born Pretty Store, and a new polish by Jacava.
I have three sets of these decals - a blue set, a black set, and today's pink and red set. These are item # 7644 at Born Pretty Store, and cost $2.99 for one or $5.99 for all three colours. There are plain gingham strips, lacy gingham strips, as well as some contrasting bows and a couple of roses. (You may notice that the corner of the black set is missing - I used it in

this mani

the other day!)
Just before Christmas, I bought three new polishes in the Jacava sale; this is the first one, Blackberry Fool, a lovely rich pink creme. Application and formula is beautiful - the quality is superb as usual with Jacava. This is a lovely colour on its own, but I decided to combine it with Barry M Vanilla on three fingers, and the decals.
I love these decals! There are so many different ways you could use them, from a full mani to an accent nail, just bows, or just gingham... I did both hands the same, and have only used about a third of the red/pink pack, so there are lots more manis in there!
My BPS discount code is still valid, and you can use it multiple times.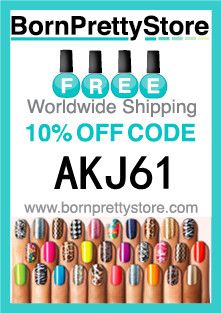 I received these decals for review purposes, but words and opinions are entirely my own. I do not receive anything if you use my discount code, although when it's been used ten times, BPS will let me host a giveaway for my readers! See my Disclosure page for more details. I bought the polishes myself.