I have posted previously about this water decal set (see post here about the pink/red ones) but today I'm trying out a look using the black set of gingham ribbon decals.
When I used the pink ones, I assumed the decals would be like most decals, and be fairly translucent, requiring a paler base colour. However, I was really impressed with how opaque they were, so today I decided to wear them over a stronger colour, and went for a classic red/black combo.
This is what I initially came up with. While I think the decals are lovely, and I like the accent nail individually, I really wasn't keen on the overall look. Somehow the ring finger nail just didn't 'go' with the rest, I think.
So I took the decals off the ring finger, and instead made it match the others.
I like this look MUCH more!
I did have a bit of an accident just on the very side of the ring finger nail, where the decal sort of melted when I put topcoat on, but it only shows in the photos really, it's not noticeable in real life. I love Toffee Apple polish too, it's such a lovely colour and fantastic quality.
This is Born Pretty Store item #7644 which $2.99 for one pack, or $5.99 for all three colour packs. From the black & white pack, I've used only a very small amount of the pack for this look.
My BPS discount code is still valid, and you can use it multiple times.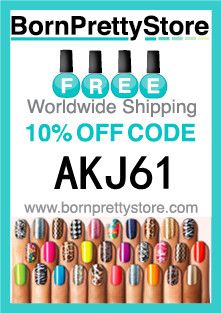 I received these decals for review purposes, but words and opinions are entirely my own. I do not receive anything if you use my discount code, although when it's been used ten times, BPS will let me host a giveaway for my readers! See my Disclosure page for more details. I bought the polish myself.