This weekend I've been playing with another set of Born Pretty Store decals, and unsurprisingly, I love these! I find that this time of year, I'm longing for spring, for the longer days and some sunshine, and I want my nails to reflect this. Sunflowers are my absolute favourite flower of all time anyway, and to have them on my nails makes me very happy!
These decals are item #9330 in the Born Pretty Store. They usually cost $2.83 per pack (or $4.33 for both designs) but they are currently on sale for $0.99 each! I don't know how long that price is going to last, but what a bargain! I have both different designs. One pack is predominantly sunflowers, the other also has lovely cheerful gerberas.
Aren't they HAPPY looking?
I first wore these yesterday over China Glaze Keep Calm, Paint On. KCPO is a lovely pastel green, with a pretty shimmer. I find the application a bit tricky, to be honest, as it's a bit streaky and runny and tends to flood the cuticles easily. It's so pretty though!
I love this look! The green and the flowers together look so springlike and pretty. I was going to leave these on for work on Monday, but then today - the sun came out!
It was bright sunshine, which I haven't seen in weeks. It immediately made me want to grab the Ferity sun-sensitive polish which has been sitting in my swatching pile for months quite some time, waiting for a sunny day.
This is two coats of Ferity Sizzling Peach, with topcoat. Application is a bit tricky, as the polish tends to lumpiness, but Seche Vite sorted that out. This first photo is indoors, away from any sunlight. I don't love this colour - I am a fan of orange, but not so much of this frosty peachy shade.
This photo is indoors, in the bright sunlight through a window. The colour hasn't changed hugely, but it is brighter and more orange, less peachy. The shimmer is a lot more evident too.
I then took this outside. The sun is so low that it doesn't reach my garden - the window photos are upstairs! But even though there was no direct sunlight on my nails, the colour change was quite obvious - it turned a much richer orangey peach colour, that I really like.
I then added the decals - and oh wow! I love this! It's more of a summer mani I suppose than a midwinter one, but I do so miss the warm weather and long daylight hours, so I don't care! When I wake up tomorrow on a grey, dark, miserable Monday, my nails will cheer me up!
I love these! The decals are really opaque so the colours are crisp and would show even over a darker base, and of course, they're so easy to use. I am a huge fan of water decals!
By the time I'd finished, the brief sunshine had gone, so the decal photos are indoors only. But fingers crossed, tomorrow will have at least some sunshine, so I'll be able to see the sunflowers over the changing polish.
You can buy these decals online at the Born Pretty Store, using my discount code for an even better price. I bought the Ferity Sizzling Peach polish on Amazon UK, for £2.50, and the China Glaze was bought at a local beauty shop.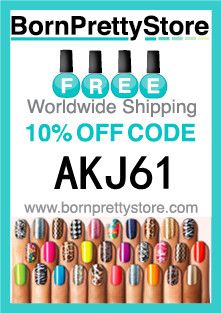 I received these decals for review purposes, but words and opinions are entirely my own. I do not receive anything if you use my discount code, although when it's been used ten times, BPS will let me host a giveaway for my readers! See my Disclosure page for more details. I bought the polishes myself.