I had lots of exciting mail deliveries this weekend! Apart from the light tent, and a big package of samples (more on that in a couple of days!) I also got some more water decals from my favourite nail art supplier, Born Pretty Store. Today I have these gorgeous black and white rose decals to show you.
The pack is item #12687 - click here for details. The pack contains about 3/4 white roses to 1/4 black roses and costs $2.86
I used a base of Zoya Storm, a lovely black polish filled with sparkles, and Barry M Lady, a beautiful white textured glitter. I added a coat of Seche on top of Lady before adding the decals, to give a smooth base.
I really like this look! The decals, as usual, are really easy to use - just drop into a small bowl of water (I use warm water to make it both easier and pleasanter) and then slide off the card backing and onto the nail. Pat dry with kitchen roll, and topcoat, and you're done.
I'm a big fan of colourful nails, but every now and then I like something monochrome for a change.
You can use my discount code for 10% off at the Born Pretty Store at any time, and you can use it multiple times. I love their selection of water decals especially - it's huge, and there are new designs being introduced all the time.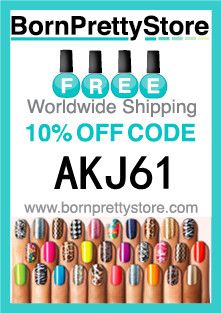 I received these decals for review purposes, but words and opinions are entirely my own. I do not receive anything if you use my discount code, although when it's been used ten times, BPS will let me host a giveaway for my readers! See my Disclosure page for more details. I bought the polishes myself.