If you are at all into nail art, or you read nail blogs, you have undoubtably heard of the Born Pretty Store! I've bought from them before, having bought studs and striping tape after seeing them being used on other blogs. So when I was offered the chance to review some of their products, I leapt at the opportunity! This is the first of what I suspect may be several posts!
The first item I chose was item 4606, the 3D Golden Foil Metal Nail Art Tips Sticker Decal Slice
(click for link). It's a bit of a mouthful, but you get this wheel full of fab, gold, shiny shapes. There are bows, hearts, flowers, Hello Kitties, bells, butterflies, snowflakes, and some fashion brand logos as well. I'm not so bothered about the Dior/Chanel type ones, but the rest are lovely, and there are so many!
The pieces are made of strong foil, and while they're originally quite flat, you can also bend them carefully to fit the shape of your nail. As today we have heavy snow (I've taken the day off work), I'm wearing two coats of Barielle Swizzle Stix and some of the snowflake pieces.
I love these! They're so shiny and pretty and they're so easy to use. I just dropped them onto fresh Seche Vite, and then added another coat of Seche over that, and that's it! They're so thin and light that the slices don't stick out or feel heavy, and they lie flat against the nail, so they're not catching on anything.
I bought my ring on Amazon, by the way.
These pretty shapes are available at the Born Pretty Store for $2.99, with free worldwide shipping! I've bought happily from the BPS before, and my deliveries have always been really fast (they say 3-5 weeks, but they've always come in under 2), well packaged, and in perfect condition. If you fancy trying these, or any of their other products, I'm excited to be able to pass on a 10% discount for my readers - use code AKJ61 at the checkout. Click on the voucher to go straight to the store. (Check out the glow in the dark nail varnish! It looks amazing, and I've seen some fabulous reviews of it online too!)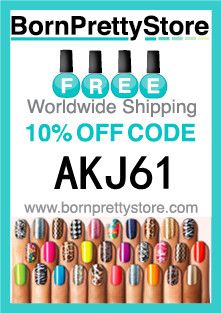 I received this product for review purposes, but words and opinions are entirely my own. I do not receive anything if you use my discount code, although when it's been used ten times, BPS will let me host a giveaway for my readers! See my Disclosure page for more details.