We've got heavy snow this weekend! It hasn't stopped coming down since yesterday morning. I've been out for a walk, and now I'm going to shut the curtains, stay inside and paint my nails! Today I've got more Born Pretty Store goodies to show you.
The second item I chose was this wheel of assorted studs. It's item 5003 on the Born Pretty Store website, and is officially called Heart Square Round Star Stud Rhinestone (
click to see full details
). It costs $4.89, which I think is an absolute bargain, when you see how many you get! As you can see, there are gold and silver studs in all sorts of shapes and sizes - circles, squares, hearts, teardrops, diamonds, triangles and stars. Today I'm using the larger, silver stars.
I used two coats of China Glaze Splish Splash, then taped off two-thirds of each nail and added a coat of Barry M Blue Plum. Then I topcoated, and while the topcoat was still wet, added a star. The studs themselves are nice and light, and can easily be bent gently to fit the curve of your nail. You could affix them with nail glue, but I just pressed lightly into wet topcoat and then added another layer of topcoat over the top, and they were good to go. When I was testing these out last night, I found out that the studs are also perfectly reusable - just wipe with nail varnish remover and they're as good as new.
I love how these look! They're so shiny and they definitely add an extra touch to a mani! I have so many ideas for these studs, as there are so many different shapes. The ones that I'm really excited about are the giant hearts!
As with yesterday's post, if you do fancy trying these out - or any of the other fabulous stuff on their website - click my coupon below and use my discount code AKJ61 for 10% off.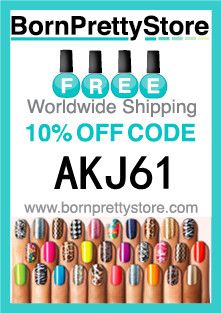 I received this product for review purposes, but words and opinions are entirely my own. I do not receive anything if you use my discount code, although when it's been used ten times, BPS will let me host a giveaway for my readers! See my Disclosure page for more details.