I'm sorry about yet another stud mani (is that three in a row now?) but I haven't got bored of these studs from Born Pretty Store yet! See yesterday's post for more details about this particular set of studs (BPS item 5003).
Today's nails started with two coats of Barry M Bright Pink, then some tape, and Rimmel Pro Heart on Fire over the top. I then stuck a couple of the large gold hearts on my thumb and ring finger.
Like the stars, these are soft enough to bend gently to fit the curve of your nail, and are stuck on with topcoat.
I love these studs! They're so easy to use, and the variety of shapes give you almost endless options.
By the way, this is what Barry M Bright Pink looks like on its own:
I don't think I've posted this before - I've only ever used it as part of a look involving multiple colours. I like it, I think it's a pretty colour.
You can use my discount code for 10% off at the Born Pretty Store - click on my coupon below and use code AKJ61 at the checkout.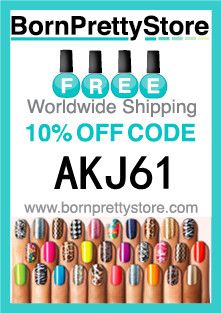 I received this product for review purposes, but words and opinions are entirely my own. I do not receive anything if you use my discount code, although when it's been used ten times, BPS will let me host a giveaway for my readers! See my Disclosure page for more details.