When Born Pretty Store recently sent me the wonderful nail art brushes (

see my review here

) they also slipped in a surprise package of these cute red polka dot bows! They are

item number 4161, Red Bowknot Shape 3D Stickers

. This is a pack of 10 tiny plastic red bow ties with a tiny pink heart and white polka dots, which usually costs $1.41 but is currently on sale for a bargainous $1.13! Actually, there were 14 of these bows in my pack too!
I started with a base of Barry M Cobalt Blue, which is a stunning, highly pigmented blue. This is one coat of Cobalt Blue! I then used nail glue to add the bows to my nails. These are solid and do not bend around the nail, so they will stick out, depending on the size and curve of your nails. This doesn't bother me, although I wouldn't wear them for everyday or work, as I'd get the caught in my hair or something I think. But I love how these look! I'm quite surprised, because I didn't think I'd like the 3D aspect of them.
I had initially planned to wear these bows on a more elaborate base (I was thinking of grey matte and shiny pinstripes) but I was really tired after a late night drying out a tea-filled laptop, and my hands were shaky, so I kept it simple. However, I then decided I wanted to try out the basic pinstripe idea, so I used a Barry M nail art pen (

see review here

) to add some stripes. They weren't the neatest in the world, as the polish in the pen slid around a bit on the blue base, so the lines weren't perfect. I should have used one of my fancy new striper brushes, haha!
You can still use my Born Pretty Store discount code for 10% off any item in the BPS.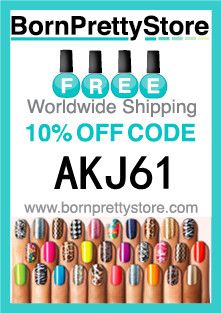 I received this product for review purposes, but words and opinions are entirely my own. I do not receive anything if you use my discount code, although when it's been used ten times, BPS will let me host a giveaway for my readers! See my Disclosure page for more details.