After my last post about the gorgeous water decals from the Born Pretty Store, I was planning to do something totally different next. However - I couldn't! I liked them so much (and I got so many compliments at work!) that I wanted to do more. So here are some more.
I'm wearing these water decals over two coats of Jacava Knightsbridge Opulence. I blogged about this gorgeous pink polish here.
Second time round, I found the decals far easier to use, and the decal part of this mani took no longer than about 5-10 minutes. I really love how it looks!
I really like the combination of the pink and black, and I love how clearly the sparkly silver parts of the decal show against the pink background.
These decals are item #5621 in the Born Pretty Store.
As always, you can continue to use my coupon to get 10% off at BPS.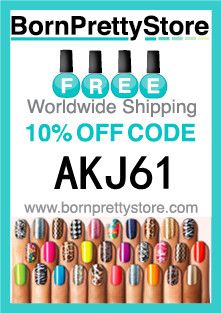 I received this product for review purposes, but words and opinions are entirely my own. I do not receive anything if you use my discount code, although when it's been used ten times, BPS will let me host a giveaway for my readers! See my Disclosure page for more details.