I was SO excited about trying out the Born Pretty Store water decals! I chose two sets - the colourful fruity ones here (item 5625) and the black and silver ones here (item 5621) I was a bit concerned that these might be too complicated for me, and I have to say - I did mess up the first few I tried!
These ones are from the second set of decals. The reason this is on a skittle base is that I had planned to use the fruit to make a really colourful mani, with bananas on a red base, pineapples on a purple base, apples on a pink base, and so on. However, I just could not get the decals to be soft enough to bend to my nail shape, so I gave up on them for now and grabbed the other pack!
The colours here are Barry M Bright Purple and Shocking Pink, Rimmel Pro Heart on Fire, and Ultra Violet, and OPI Roll in the Hague.
These took a little bit of practice to get the hang of, but basically, you paint your nails and allow them to dry, then cut out the decal you want to use (I used my tiny sewing scissors), peel off the plastic film, and drop the card+decal into a little bowl of water. I then used a combination of tweezers and my fingers to slide the decal off the card, and onto a wet nail. While the nail's still wet you can slide the decal into position, and I then dabbed the nail dry with a soft cloth. When they were all done, I added topcoat. Once I'd done a couple of nails and got used to the method, it was really easy, and pretty quick too.
The decals come on a huge sheet with hundreds of separate stickers - look!
These are for sale on the Born Pretty Store website for $4.73! I think that's a complete BARGAIN considering how many there are here! There's enough for at least 11 full manis, although I think you'd easily get far more than that out of it.
The instructions on these made me giggle a bit - I understand (mostly) what they meant to say, but still!
And
And I've just realised why I couldn't get the fruity ones to work! I didn't use a hairdryer! I'm so relieved - I've only ever had success with BPS items before, and I was really surprised that I couldn't get these to work properly.
I am so looking forward to doing some kind of autumnal leaf mani with these in a few months' time! These fruit/leaf decals are only $3.99!
Overall - I love these! I think they look really effective, a bit like stamping, but without the mess or the chance of getting it wrong, and far more detailed and clean than I could possibly do freehand. And because you put them over your own base, you can really play around with them and make all sorts of different looks. I'm going to have a lot of fun playing with these over the summer!
If you fancy trying these - or one of the many MANY other designs that BPS stock - then don't forget that you can still use my discount code to get 10% off your order, and that Born Pretty Store also have worldwide free shipping.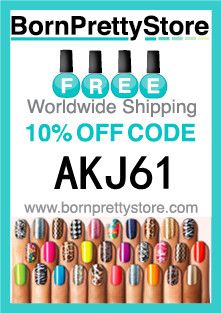 I received these products for review purposes, but words and opinions are entirely my own. I do not receive anything if you use my discount code, although when it's been used ten times, BPS will let me host a giveaway for my readers! See my Disclosure page for more details.