Today I have some fabulous feather shaped water decals to show you from the Born Pretty Store. I'm wearing these over yesterday's gorgeous pink Jacava polish, Raspberry Bavarois.
This is two coats of Raspberry Bavarois, with the grey feather decals. These decals are part of Born Pretty Store item #5311 which is a huge sheet of different coloured feather decals for the bargain price of $4.73!
There are 11 different sets of colours, and as you can see, each one is enough for at least two generous manis, so I calculate that each mani costs $0.21! I mean, how bargainous is that?!
I used half of the grey decals for this mani - one line on each hand.
Here is the set in more detail - what colour combinations would you try?
Or what colour combinations would you like to see me try?
To apply these water decals, you just cut round the one you want to use, peel off the film covering the decal and drop the card into a bowl of water. Then with your fingernail in the water, the decal just slides off the card and onto your nail, and while both are wet, you can slide the decal around as much as you need to.


When it's in place, just press the nail dry with a tissue or a cotton ball, and you're done! I added topcoat as well (Dior Gel Coat in this case) for extra shine and protection.
I absolutely LOVE these decals, and I can't wait to use some of the other colours.
If you do fancy treating yourself to some nail art goodies, don't forget you can use by Born Pretty Store code below for 10% off any purchase in the store, and all shipping is free too!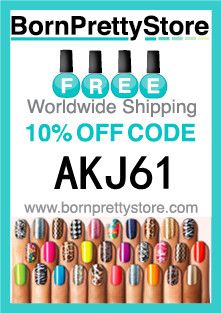 I received this product for review purposes, but words and opinions are entirely my own. I do not receive anything if you use my discount code, although when it's been used ten times, BPS will let me host a giveaway for my readers! See my Disclosure page for more details.