I was very excited last week to be contacted by the lovely people at 2true, who asked if I fancied trying out some of their new range of sparkly goodies! I of course said yes, and on Saturday received this bunch of goodies!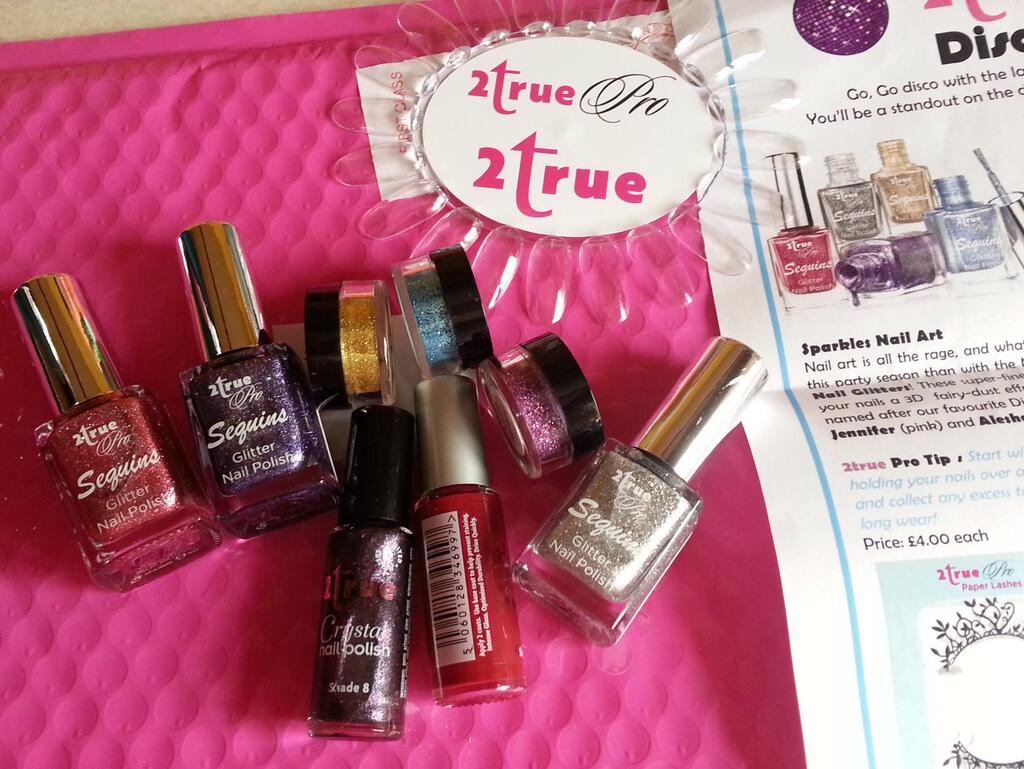 I mean - look at them!
Today I'm wearing the red crème, Shade 6, and some of the gold glitter, Danni.
This is one coat of Shade 6, with no topcoat.
I love this red! I've tried 2true before, but not in ages, and while I thought the polish I tried last time was ok, it was nothing special. However, this red is much better than the polish I tried before. The formula is really good - opaque, pigmented and very glossy. I didn't need to do any clean up at all, as the brush let me paint really neatly. The label says that this is a new flat brush, and it's definitely much better than the old brush. I'm not a huge fan of the narrow bottle, but that's only because you have to be careful to hold it when you're painting, because it's easier to knock over than a squarer bottle.
Anyway, after letting the red dry, I used Seche Vite to topcoat my thumb and a stripe down my ring finger. Then I used the gold loose glitter, Danni. These loose glitters, the Sparkles range, are tiny pots of very fine glittery powder, with a screw top and a dusting cap. I've always been a bit apprehensive about using this sort of powder glitter before, because I'm convinced it'll make a huge mess.
However, this wasn't anywhere near as messy as I expected. I did consider doing a fancy pattern of dots, but thought it would be easier to keep it simple for the first time. As you can see, there is a fair amount of glitter that I didn't manage to brush off, but it's not that visible in real life.
This glitter is SO sparkly and pretty! I really love how it looks, it's far sparklier than normal glitter polish. 2true say that for extra wear, you can add topcoat to this, but I was concerned that it might dull the glitter or make it gloopy. I needn't have worried, as it didn't, it just made it smoother.
I think the glitter looks so good because the colour isn't totally uniform all over, there are different shades of gold in there, making it look less flat and more multi dimensional.
The 2true range is available in Superdrug - the Sparkles glitter pots sell for £4 and this polish costs £1.99 - however, if you're a regular in Superdrug you'll know that there are often special offers, letting you get a real bargain.
I have several more 2true posts coming up for you in the next week - and now I know how easy the loose glitter is to use, I have plans for something more detailed and interesting with the other colours that I have.
These products were provided for review from the company or their PR.