As I like the Barry M Silk polishes so much, today I bought the two other colours that I hadn't bought previously. I think it's the first time I've every owned a whole collection of something! This is Truffle, the nude coloured one, which I decided to wear with some neon studs from the Born Pretty Store.
Truffle is just as good as the other Silk polishes. This is two coats.
The studs are this item from the Born Pretty Store, which I reviewed previously here and here. I really like these studs - they're bright and cheerful, and are thin and light enough to stay stuck down easily with topcoat.
As always, you can use my 10% discount code when buying any items from BPS - and there is free shipping too.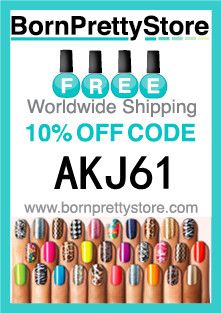 These studs were provided for review purposes.