My favourite online shop, the Born Pretty Store, sent me some nail art brushes to review! I was a bit apprehensive about using these, because I've never used nail art brushes before, and I'm just about the least artistic person on the planet. I chose this set of 15 brushes, which costs $5.96 (less than 40c per brush!)
The brushes come in a plastic wallet, and most of them have a little plastic guard over the bristles as well. As you can see, there is a big range of types - long and thin, short and wide, straight edged, pointy, fine, thick, fan brushes (I'm not sure what they're for), a superfine dotter, angled brushes, and a nice short-handled mini brush too.
I decided to try painting some flowers over my Essie Blanc from this morning, and this was the result:
I used these three brushes. I used the thicker one to paint on some approximately flower-shaped splodges with China Glaze Life is Rosy, and let that dry. I then used the shorter fine brush to add some highlights - this took a while because I kept selecting the wrong pinks and they didn't show up. Eventually, I added the highlights with Avon Viva Pink and some more Essie Blanc.
Then I used the other thin brush to add the leaves, using Barry M Spring Green and China Glaze Keep Calm, Paint On.
For a first attempt, I'm really happy with these! It wasn't nearly as hard as I was expecting, and the brushes were so easy to use. It took a bit of practice to work out how much polish I needed on my brush (I started with my brush too dry all the time, and hardly got any colour on the nail) but once I had that sorted out, I was away. I wondered about adding more detail in the white spaces, but I thought I might spoil what was looking pretty good, so I didn't (this time!)
The brushes were excellent, the orange ones in particular as they were firm and very easy to control. The dark-haired one was a little softer, which made it slightly harder to keep control of, but I'm sure that's just practice. And now I'm keen to try lots of other designs too!
You can buy these brushes (plus loads of other sets and lots and lots of other nail-related things) at the Born Pretty Store, and you can get 10% off using my discount code below: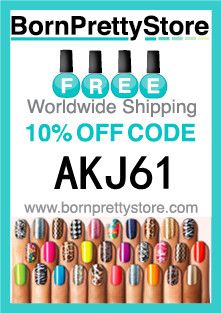 I received this product for review purposes, but words and opinions are entirely my own. I do not receive anything if you use my discount code, although when it's been used ten times, BPS will let me host a giveaway for my readers! See my Disclosure page for more details.