Today I'm trying out some more decals from the Born Pretty Store. These are itemY106 Daisy Water Decals. They cost the totally bargainous amount of 99c for the pack, which is enough for two full manis!
I love gingham, and I love sunflowers, and these are just gorgeous! There are 8 flowery decals and another 12 lacy ribbons.
I am wearing these over China Glaze Pink-ie Promise, a pretty pink crème.
I hadn't realised that the blue of the decals would be a bit transparent, so the bright blue has changed to a pretty lavender colour, which wasn't what I'd intended, but which I think looks really pretty.
I love these decals! They're just so sweet and pretty!
I managed to get the one on my ring finger a bit wonky, but I don't think that really matters.
As always, my discount code is still valid for 10% off any orders at the Born Pretty Store.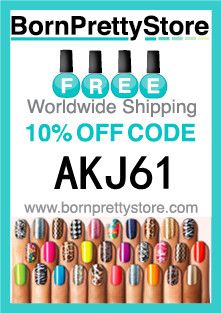 I received this product for review purposes, but words and opinions are entirely my own. I do not receive anything if you use my discount code, although when it's been used ten times, BPS will let me host a giveaway for my readers! See my Disclosure page for more details.