Oh dear! I'm a bit ashamed to share these photos, but I decided to do it anyway, because the original nails looked so nice! This week I received a pack of the Born Pretty Store's new neon studs to review. They have a whole range of gorgeous brightly coloured studs in various colours, sizes and shapes. They will also be doing some wheels of a variety of colours as well. Here I have the 2mm square hot pink studs,

item 6968

.
As you can see, you get a nice sized bag with plenty of studs. The usual price for these studs is $4.99, but they are currently on sale for only $2.99, which is a huge bargain I think!
I decided that as pink and green are one of my favourite combinations, I'd pair these with two Barry M Gelly polishes, Key Lime (thumb, middle & little finger) and Greenberry (index & ring). I then added the studs using my second Born Pretty Store review item, these fantastic wax pencils,

item 3975

.
They're designed for picking up rhinestones or glitter and so on, and are just magic! Usually I'd use a cocktail stick dipped in topcoat, but that doesn't always work and can be fiddly, and doesn't work if you don't want topcoat on your stud/rhinestone - for example, if they're matte, or you're applying to a matte base. I was so impressed with this pencil! It's like magic, just touch it to the studs, and it picks them up! These cost $1.99 for two pencils, and I imagine they'll last forever!
My nails looked fabulous. I loved the colour combination. And then I decided to just add topcoat, and THIS happened:
OH NOES!
This has never happened to me before, but I assume it was just too warm, or I had too much topcoat, or something. Anyway, interestingly, my camera totally failed to capture the colours correctly, so I tried my phone camera, which also totally failed, but in the opposite way! The first two photos were taken on my phone: the Greenberry is colour accurate (index and ring fingers) but the Key Lime is far too dark. The second two photos were taken with my camera, and the Key Lime is accurate, but the Greenberry is far too pale! So between them you get the idea of what they looked like, haha!
See? Greenberry looking weird! And bubbles galore!
I was so annoyed about the topcoat fail, because I LOVED how the colours combined and how the studs looked (although a couple are wonky, oops!) and I wanted to wear these all weekend. However, the studs themselves are just gorgeous, and I am a bit inspired for a few other ideas, so hopefully I'll be able to re-post with a more successful look later this weekend. I do wonder if the Barry M Gelly has something to do with it - this is the third fail I've had with these Gellys in the last two weeks (I didn't post the other two because they were so bad!) With one, the colours just wouldn't dry properly at all, and with the other, I used tape and it made the polish lift off completely, which has never happened before.
If you fancy trying out these (or the other colours - click the link above, there are LOADS of great colours!) you can use my discount code to get 10% off any Born Pretty Store order. They also have free postage worldwide!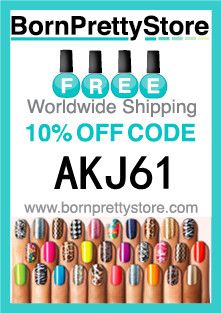 I received these products for review purposes, but words and opinions are entirely my own. I do not receive anything if you use my discount code, although when it's been used ten times, BPS will let me host a giveaway for my readers! See my Disclosure page for more details.