I was so excited to receive these glitters from the Born Pretty Store! I mean - just LOOK at them!!
This item (#4625) is a set of 12 different colours of round glitters, measuring approximately 2mm across. Each colour comes in its own little pot with a screw cap, and all 12 come in a neat little box with a lid, which keeps it all very tidy.
For a first try with these, I painted my nails with three coats of Jade Mystic Gold, a fabulous gold holo which I bought from the wonderful Sally Magpies store. I love this gold polish! I then painted my ring fingers black using (surprise surprise!) Rimmel Black Out. Then I got busy with my wax pencil and some topcoat, and covered the black with the gold glitters.
This glitter is thin and smooth, so lies really flat on the nail. The gold is SOOOO sparkly! It's really hard to capture the range of holo sparkle in there - as I move my fingers around in the light, my nails are like a mini mirror ball!
I absolutely love these! While I've tried hexagonal glitter/glequins previously, I was really frustrated that I couldn't see well enough to line them up exactly evenly and all facing the same way. The organised part of me HATED seeing them not placed right! So these circular glequins are much better!
I'm bursting with ideas at the moment for using the other colours!
This set sells on the Born Pretty Store for $7.60, which is a little pricier than some of the other items I've tried. However, that works out at 63 cents per pot, which makes you realise how bargainously cheap that is!
You can buy these and many other shapes and sizes of glitter on the Born Pretty Store site, and of course you can use my discount code for 10% off.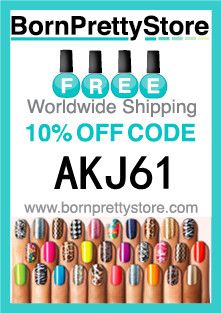 I received this product for review purposes, but words and opinions are entirely my own. I do not receive anything if you use my discount code, although when it's been used ten times, BPS will let me host a giveaway for my readers! See my Disclosure page for more details.