Someone said recently that I was probably set for life for glitter... however, I am of the opinion that you can NEVER have enough sparkly stuff! This weekend I've been really excited because I received some more items to review from the Born Pretty Store, and the first thing I wanted to try was this set of large round glitter pieces.
I mean, just look at 'em! (Incidentally, the stripy thing is a glass worktop protector that I bought recently for my nail varnish desk.)
Here they are compared to my other set of glitters. As you can see, they're much larger. This set is the same colours as the other set (see here for first full review) which also means that I'll be able to combine the large and small ones together. They're not quite the same colours as the ones on the BPS website, but I'm fine with that - any colour sparkle is good for me! These large glitters are this item, #4624, which costs $7.60 for this set of 12. I love how neat the sets are, with their own box and lid, which I use to tip a few loose glitters into each time, which is easier than picking them out of the pot.)
I decided to use these in a skittle look, using OPI Yellowpalooza (I know, I know! I said I'd never use it again, but there it was on my table, and I figured I was covering most of it up anyway...) Avon Viva Pink, Barry M Key Lime and Guava, and Essie Maximillian Strasse Her. I then added the glequins using a cocktail stick and some topcoat.
These glequins are obviously bigger than my other ones, which makes them far blingier, sparklier, and more OTT glitzy, all of which I love. Of course it also means that they don't lie quite as flat on curved nails, but I think I can live with that! They still lie smooth enough to not catch on things, and I think for a special occasion, or a night out, or um... just sitting around the house in your pyjamas watching Doctor Who, then they're absolutely perfect!
I can't stop wiggling my fingers around in the sunshine!
I love these! I want to just cover my nails in glitter every day of the week!
If you fancy treating yourself to some nail art goodies like these, I can thoroughly recommend the Born Pretty Store; I've bought from them several times, and they have so much choice, great prices and free delivery worldwide. You can also use my discount code for 10% off any order.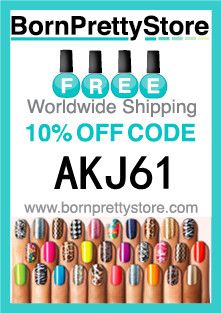 I received this product for review purposes, but words and opinions are entirely my own. I do not receive anything if you use my discount code, although when it's been used ten times, BPS will let me host a giveaway for my readers! See my Disclosure page for more details.