Today I have some gorgeous leopard print water decals from the Born Pretty Store to show you! I decided to pair these with a red/nude combo, a colour combination that I am particularly fond of!
These decals come in a pack of 14 of varying sizes. I love how they look, so I decided to only use two on each hand for now, so that I can spread out the use and have more chances to wear them!
The red is Rimmel Pro Heart on Fire, and the nude shade is Barry M Matte in Vanilla. I made the half moons using hole reinforcers, and topped everything with Seche Vite once I'd added the decals.
I have to say, these tip shaped water decals are a little fiddlier to use than the ones that are smaller than a whole nail, because of the shape. You need to get them to match up to the width of your nail, so the chances are they'll either be slightly too wide (as on my thumb, where I had to trim a tiny bit off) or slightly too narrow (as on my ring finger, where there is a sliver of red showing along the side). However, that's only a slight difficulty, and as you can see, the results are pretty impressive!
I think this looks quite fancy, and I really like it! I wouldn't wear these to work, but I felt very glam wearing these!
If you want to try these, they are item 6725 and are currently on sale! You can get a set of these for a totally bargain price of $1.86! And if you use my discount code, you can get an extra 10% off on top of that as well!
I do love Born Pretty Store! They're constantly introducing new items, and there's always something new I want to try as well.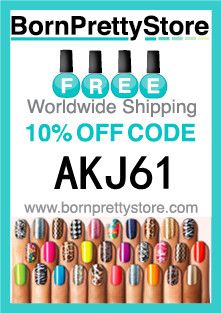 I received this product for review purposes, but words and opinions are entirely my own. I do not receive anything if you use my discount code, although when it's been used ten times, BPS will let me host a giveaway for my readers! See my Disclosure page for more details.