I was recently sent these fab googly eyes from the Born Pretty Store to try out. I was going to do smiley faces, but then I thought... PACMAN!! Now, I have done Pacman nails once before, way back in 2012 (see original post here) but this time I thought I could do better!
For this design I used Barry M Yellow, Shocking Pink, Guava and Blood Orange, and OPI Roll in the Hague. I then taped off the nails and used Rimmel Black Out for Pacman's mouth and the ghosts' teeth. The teeth were made using tape which I'd cut with zig zag scissors. I then added the googly eyes which I stuck down with topcoat, except on Pacman's face, where I added a dot of black first.
The black under Pacman's eye splodged a bit, which made me a bit sad. Oh well!
I do love googly eyes! These are Born Pretty Store's item #13861 Creative Mini Eyes (click for details.) They cost $1.28 for 10 eyes, and there are different sizes, as well as some REALLY cute ones with eyelids and eyelashes! Mine are the middle size plain ones. They're light and easily stuck down with topcoat or polish. I doubt they're really reusable, but at that price it's not really important! Plus, you can use my 10% discount as well.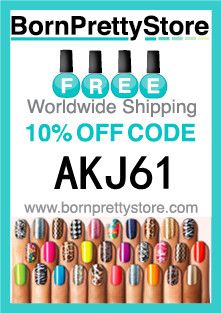 Just for comparison, here is my original design:
Doesn't it look better with the googly 3D eyes? I can't believe how much cooler they are! (Although maybe my round nails were better for the Pacman shape!)
These 3D eyes were provided for review purposes, but opinions are 100% honest. See my Disclaimer for further details.